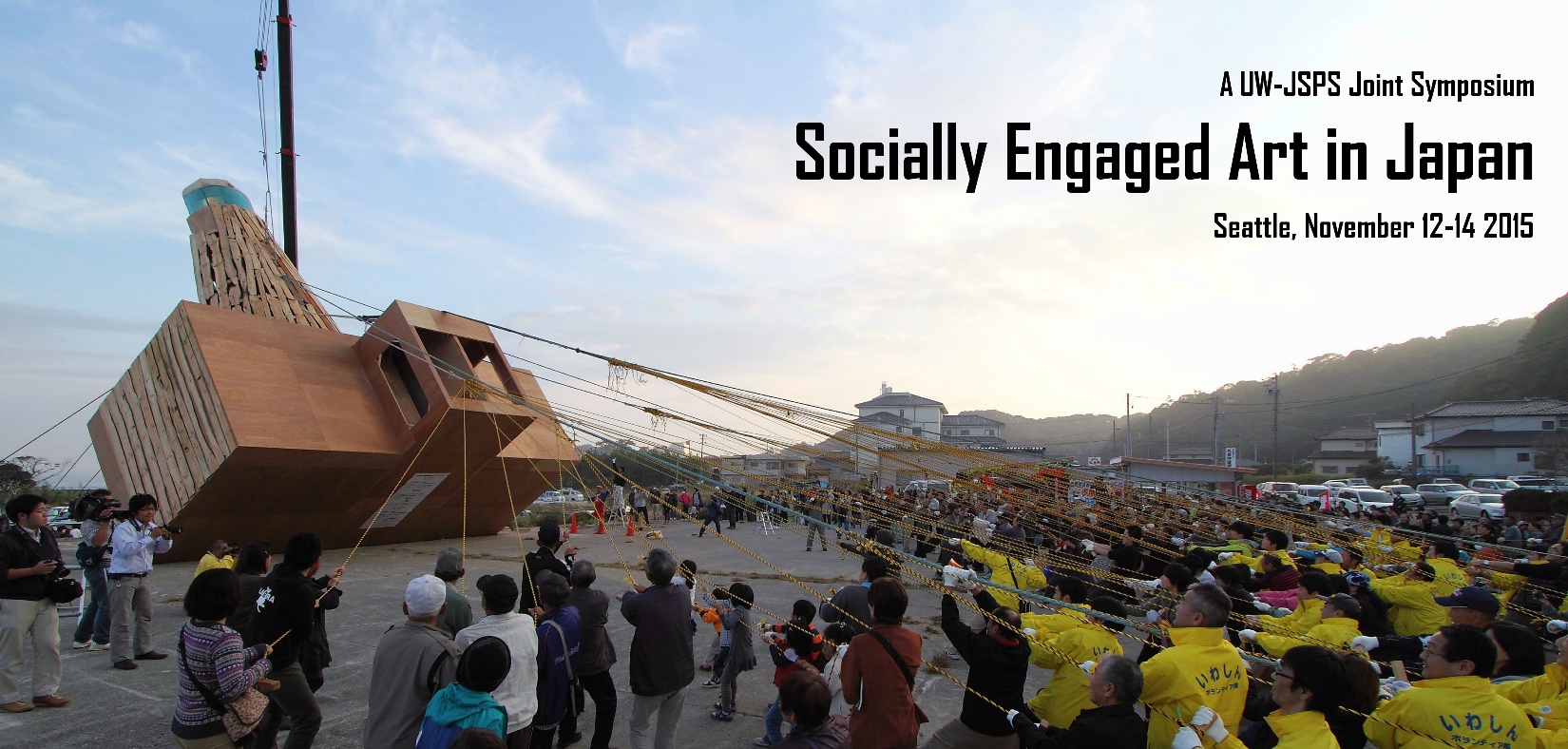 The Lighthouses – 3.11 Project ©Tsubasa Kato (all rights reserved). Lighthouse raising at Iwaki, Fukushima Prefecture, 2011 Photo: Kei Miyajima
Socially Engaged Art in Japan
A UW-JSPS Joint Symposium
November 12-14, 2015
University of Washington, Seattle
The past two decades have seen a surge in practices that cross the boundaries between art and social activism. Nowhere has the social turn been more deeply felt than in Japan, where the art world has seen a massive shift towards socially engaged art and artists increasingly finds a role in rebuilding struggling communities, helping disadvantaged populations, and connecting people with local history and culture. As many have noted, socially engaged art has emerged at a time when social services wither, civic space disappears, and visions of a shared future falter, all trends which register with particular intensity in contemporary Japan. This symposium will explore how to understand the field of socially engaged practice in a global context and how Japan's experience can inform that understanding.
Keynote addresses by Kitagawa Fram and Sharon Daniel

Artist talk by Tanaka Kōki

Confirmed panelists Kawashima Nobuko, Kuresawa Takemi, Yoshimoto Mitsuhiro, Adrian Favell, Kumakura Sumiko, Fukuzumi Ren, Sasha Su-Ling Welland, Ueda Kanayo, Sumitomo Fumihiko, Makiko Hara, Xiaojin Wu, Reiko Tomii, William Marotti, Mōri Yoshitaka, Tad Hirsch, Igarashi Taro, Takehisa Yu, Miwako Tezuka, and Marilyn Ivy
For full details please visit the website: https://sites.google.com/a/uw.edu/seajapan/home.
This symposium is organized by Justin Jesty.
Generous support has been provided by the Japan Society for the Promotion of Science, the Simpson Center for the Humanities, the Japan Foundation Center for Global Partnership, the Japan Faculty in Humanities and Arts, the UW Japan Program, and the UW Department of Asian Languages and Literature.